Abraham and Ann (Orme) Walker are our immigrant ancestors; although, I'm not sure most of us consider the English to be immigrants in the same way as our Irish or German ancestors. The English are simply easier to research once you have a starting point. For this family, that came about thanks to his family providing the location of Ashton-Under-Line [sic] in his obituary. With the location came church records, which clarified his parents and siblings. However, with a common name such as Walker, the research is by nature slow and painstaking as there are boatloads of Walkers in Lancashire, and all of them seem to bear the same names. I think of Abraham and Ann as the spinners, since that was their occupation in the cotton and woolen mills.
Abraham Walker was born about 1823 in Ashton-Under-Lyne, Lancashire, England. He was the oldest of the six known children of Jeremiah Walker (1799-1850) and Mary Newton (1799-1849) and was baptized on 18 May 1823 in Saint Michaels in Ashton-Under-Lyne. No actual birth date was provided in the baptismal record or yet been located.1
Based on census and church records, the Walker family all appeared to have worked as wool and cotton spinners in the local mills. Their records show "Charlestown" as their home, making them distinguishable from the multitude of other Walkers.
On 8 Nov 1841, Abraham married Ann Orme in Oldham, Lancashire, England.2 The date was found in a pension file, but locating the church record was more difficult. A bishop's transcript was eventually found, for Abraham Walker (son of Jeremiah) and Ann Hill (daughter) of Ralph. It appears to have been a transcription error on the bishop's copy. The original church register has not yet been reviewed.
Ann Orme was born 13 Mar 1820 in Ashton-Under-Lyne. She was one of the seven known children of Ralph Orme (1791-) and Phoebe Walker (1788-) and was baptized on 11 May 1823 in Saint Michaels.3 Her family also worked in the local mills as weavers. It is not yet clear if Ann's mother Phoebe was part of Abraham's father's immediate family.
Abraham and Ann had their first known child in January 1844 in Ashton-Under-Lyne. Phoebe Walker was baptized 30 Jan 1844 in Saint Michaels. She died that same year and was buried on 4 Aug 1844 in the churchyard of Saint Michaels.4,5
Between 1845 – 1848, Abraham and Ann left Ashton-Under-Lyne and moved to Philadelphia. He was one of hundreds of wool and cotton mill workers who came to the United States to work in the newly industrialized woolen mills in Philadelphia and Camden. Their next known child, Jeremiah, was baptized on 10 Jul 1848 in the Church of the Redemption (Spring Garden).6 Abraham and Ann appear together without children on the 1850 Federal Census in Spring Garden Ward 7; baby Jeremiah was found on the 1850 Mortality Census as having died in April.7,8 The child found on the mortality census is listed a 3/12, so it's unclear if this is a second son named Jeremiah or an error where the years were left off in front of his birth. His burial location is not known.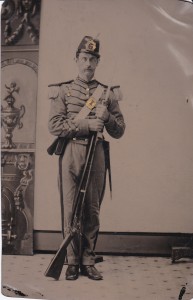 On 5 Aug 1861, Abraham enlisted in Battery H, 1st Reg, PA Light Artillery.9 However, it does not appear that he remained in service. While his service is listed in his obituary, and was known to his descendants, when Ann applied for a Widow's Pension, she was denied on the grounds that Abraham had been classified as a deserter.10 The family story passed down was that Abraham had become ill and was discharged; however, there is nothing in the military records to support that story.
Abraham continued to work in the wool mills and Ann remained at home raising their children. Abraham's two brothers, John and Jeremiah, also immigrated to Philadelphia and worked in the mills, either living with him or nearby at various times. Numerous documents and directories place Abraham and Ann in the Spring Garden area of Philadelphia throughout their years in Philadelphia. Abraham was residing at 2204 Hamilton Street, prior to and at the time of his death.11,12
Abraham died on 5 Oct 1884 from cancer of the stomach and was buried on 8 Oct 1884 in Mount Moriah Cemetery.13 His obituary stated he was a member of the International Order of Odd Fellows and the Order of Chosen Friends.14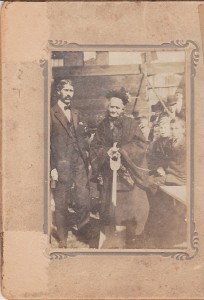 Ann survived him by twenty-five years, remaining in the Spring Garden area. On the 1900 census, she is living at 2222 Hamilton Street along with her daughter-in-law Kate, the widow of Ann's son Ralph.15 Prior to Ann's death, 24 Oct 1909, she was living with her daughter Mary Elizabeth (Walker) Booth at 2239 Callowhill Street. Ann was laid to rest in Mount Moriah Cemetery with Abraham on 27 Oct 1909.16 Her obituary states that she was a member of the Emmanuel Church at 23d and Summer streets.17
While the record from the Oliver Bair Funeral Home states there was at least a headstone for Abraham "Reopen Abraham Walker… removing stone by family",18 a stone has not yet been located in the plot for either Abraham, Ann, or the other family members known to be buried there. Oddly enough, Abraham is found on several lists (probably copied repeatedly from others) as a veteran in the cemetery with the following information: Walker, Abraham, d. 10/05/1884, CO H 1 PA L ARTY. This would be how the information on a military tombstone would appear. There is also a record of interment from Mount Moriah to the Quartermaster General stating a headstone was ordered in 1888. It is possible that this is the record, which has generated the information for those lists. It does not mean a military headstone was ever supplied.
Abraham and Ann had eight known children together – they are listed here and will be discussed in the next post:
Phoebe Walker (Jan 1844-Aug 1844) Ashton-Under-Lyne, St Michael's Cemetery
Jeremiah Walker (11 Jan 1848-Apr 1849) Philadelphia, burial location unknown
Ralph Orme Walker (26 Oct 1850-13 Dec 1897) Philadelphia, Mount Moriah Cemetery
Mary Elizabeth (Walker) Booth (19 Jan 1853-27 Feb 1938) Philadelphia, Mount Moriah Cemetery
Abraham Walker (13 Jan 1854-9 Jul 1920) died in Pittsburgh, South Side Cemetery
John Walker (21 Jun 1858-aft 1880) unknown death/burial
William Zed Walker (2 Aug 1860-10 Apr 1941) Philadelphia, Greenmount Cemetery
Phoebe Ann Lincoln Walker (28 Jul 1865-aft 1880) I have been unable to locate a marriage or death record for Annie. [Update: 14 Jul 2017 – Phoebe Ann has been found and a post is coming about her and her family.]
Abraham and Ann also raised his brother John's son, Charles, after the death of John and his wife Mary. Charles (22 Jan 1863-24 Jun 1880) was baptized as Abraham and Ann's own in the Church of the Redemption in 1865 and they listed him as their son on the 1880 census, leading many to believe he was actually their child.19 However, Charles's death certificate clearly lists John and Mary Walker as his parents.20 Charles is also interred with Abraham and Ann at Mount Moriah.
---

Footnotes:
1. St Michaels (Ashton Under Lyne, Lancashire, England), "Bishops Transcription of St Michael's Church," Baptismal Record; FHL microfilm 547,829
2. Pension Application Ann Walker; Civil War and Later Complete File (NATF 85D); Federal Military Pension Application; U. S. National Archives & Records Administration, Washington.
3. St Michaels (Ashton Under Lyne, Lancashire, England), "St. Michael's Church," Baptisms p.218; FHL microfilm 547,823.
4. St Michaels (Ashton Under Lyne, Lancashire, England), "Baptisms," p.24, 30 Jan 1844, Phoebe Walker dau. of Abraham & Ann Walker; FHL microfilm 1,538,434.
5. St Michaels (Ashton Under Lyne, Lancashire, England), "Burials," p. 246, line 2, Phoebe dau. of Abraham Walker, 4 Aug 1844; FHL microfilm 1,550,971.
6. Church of the Redemption (Philadelphia, Pennsylvania, Philadelphia County), "Church of the Redemption (Spring Garden)," Records 1846-1850 by Rev. George A. Duborow; FHL microfilm 2,048,314, item Baptism Jeremiah Walker 11 Jan 1848.
7. 1850 U.S. census, Philadelphia County, Pennsylvania, population schedule, Philadelphia, p. 382, dwelling 249, family 327, Abraham Walker; digital images, Ancestry (http://www.Ancestry.com); citing National Archives and Records Administration microfilm M432, roll 819.
8. Pennsylvania U.S. Census Bureau, Mortality Schedule, M1838, 11 rolls: pg 2 Seventh Precinct, Spring Garden, Philadelphia, 25, Jeremiah Walker, aged 3/12, cause of death unknown; digital image, The Generations Network, Inc., "U. S. Federal Census Mortality Schedules, 1850-1880," Ancestry (http://www.ancestry.com: 24 Nov 2009).
9. National Park Service. U.S. Civil War Soldiers, 1861-1865 [database on-line]. Provo, UT, USA: Ancestry.com Operations Inc, 2007.
10. Adjutant General Statement; Civil War and Later Complete File (NATF 85D); Federal Military Pension Application; U. S. National Archives & Records Administration, Washington. Pension File of Ann Walker, Widow of Abraham Batt H, 1st Ref., PA Lt Art
11. 1870 U.S. census, Philadelphia County, Pennsylvania, population schedule, Philadelphia, p. 25, dwelling 321, family 364, Abram Walker; digital images, Ancestry (http://www.Ancestry.com); citing National Archives and Records Administration microfilm M593, roll 1400.
12. 1880 U.S. census, Philadelphia County, Pennsylvania, population schedule, Philadelphia, enumeration district (ED) 276, p. 367 Stamped, dwelling 114, family 147; digital images, Ancestry (http://www.Ancestry.com); citing National Archives and Records Administration microfilm T9, roll 1175.
13. Pennsylvania City of Philadelphia, Philadelphia City Death Certificates 1803-1915, Abram Walker; digital image, Family Search, "Pennsylvania, Philadelphia City Death Records 1803-1915," New Family Search (http://pilot.familysearch.org: 20 Jun 2008).
14. Obituary, "Walker," The Philadelphia Inquirer, 8 Oct 1884, p5; digital images.
15. 1900 U.S. census, Philadelphia County, Pennsylvania, population schedule, Philadelphia, enumeration district (ED) 285, p. 8B, dwelling 119; digital images, Ancestry (http://www.Ancestry.com); citing National Archives and Records Administration microfilm T623, roll 1458.
16. Pennsylvania Department of Health, death certificate 23909 (1909), Ann Walker; Department of Vital Statistics, New Castle.
17. Obituary, "Walker," The Philadelphia Inquirer, 26 Oct 1909, p7; digital images.
18. Historical Society of Pennsylvania; Philadelphia, Pennsylvania; Collection Name: Historic Pennsylvania Church and Town Records