28 Dec 1894 – 12 Nov 1961
William Harry Walker was the sixth child of William Z & Nannie (Heisler) Walker. My mother told me that he was named for his grandfather William H. Heisler. Harry, like his older brother William Leslie, was known by his middle name. My mother always named him as Harry on her documentation. His military records and death certificate both state: Harry Walker AKA William Harry Walker.
Per the family bible page, Harry was born 28 Dec 1894.[1] This copy of the record for the birth of the Walker children was the only family record found. His later government and civil records all matched this date.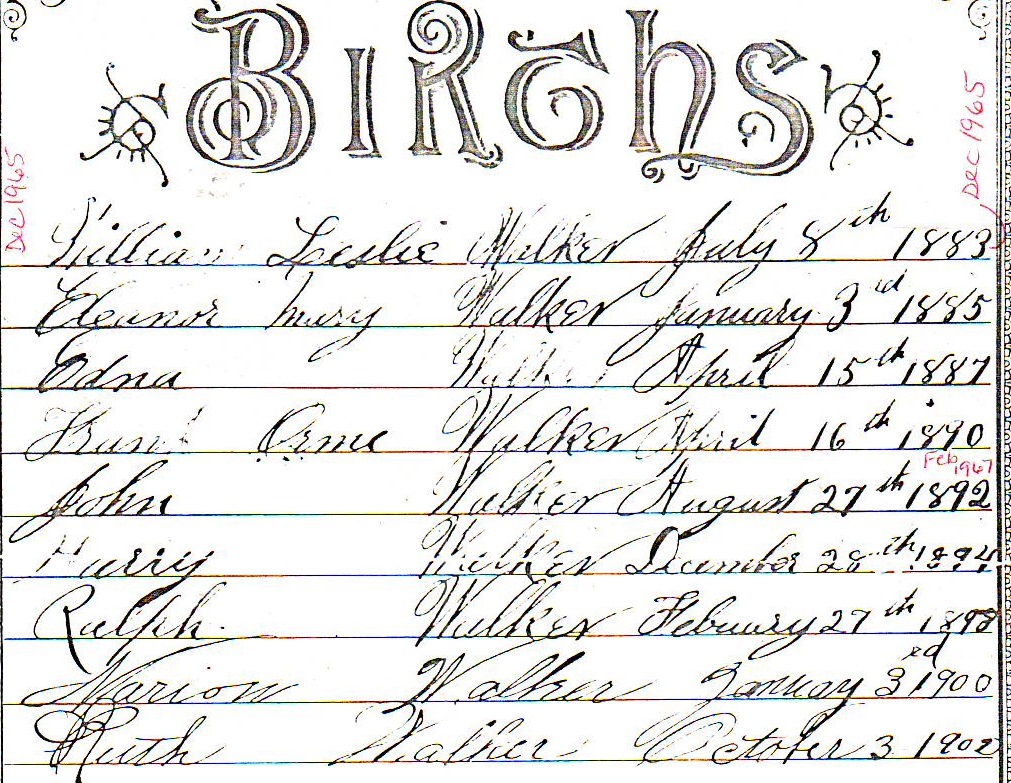 I have found no record of baptism for Harry. Based on the way the older and younger children were baptized in "batches," I'm led to believe that church attendance was an irregular event for this family. He was possibly baptized in another local church and those records have not yet been scanned. I continue to check as new records become available.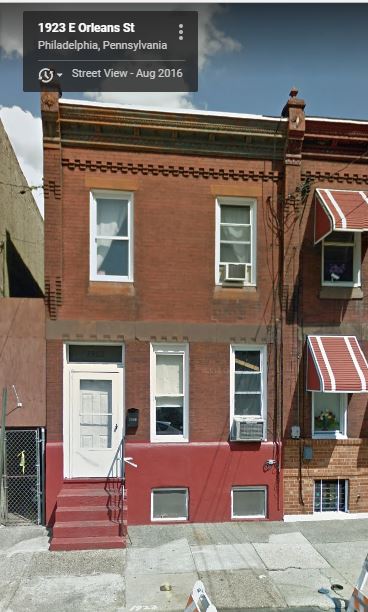 Harry appears with his family on the 1900 census.[2] At age five, they were living at 330 N 22nd Street in Philadelphia. This row of houses no longer exists, having been destroyed during urban renewal and the expansion of the Benjamin Franklin Parkway. He is the youngest of his siblings and is not yet attending school and is listed as being unable to read or write. In April 1910, fifteen year-old Harry was enumerated with his parents and seven siblings at 2019 Monmouth Street in Philadelphia. As of 2017, that row house still existed and is shown at the left. Neither Harry nor his brother, John, are shown as being employed, but they are also not shown to be attending school that year. It is not clear based on his records if he graduated from high school or if he left to seek employment.
Harry apparently inherited his father's mechanical skills and on 24 Apr 1917 enlisted in the U.S. Army as a mechanic in the newly formed aero squadrons. He served with the 23rd, 45th, and 162nd Aero Squadrons. He served overseas in England from 31 Jan 1918 to 2 Feb 1919. He was honorably discharged on being demobilized 13 Feb 1919.
He was not a pilot, but like every good mechanic, he made sure to have his picture taken while sitting in one of the planes he maintained.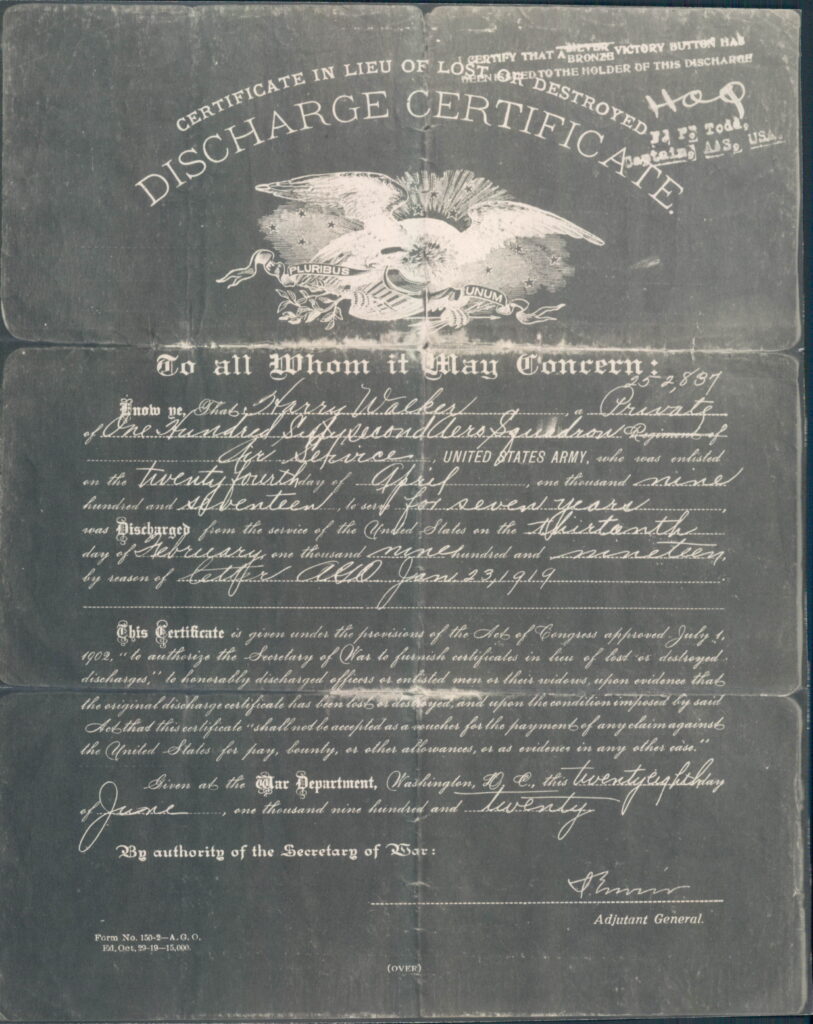 Harry's original papers had apparently been lost and this 1920 document was the only record that was found in his wife, Margaret's, personal papers after her death. Interestingly, it states he enlisted 24 April 1917 to serve "for seven years" but was discharged 13 Feb 1919 by reason of "letter AGO 23 Jan 1919." AGO is Adjutant General's Office and this was the demobilization order for his unit at the end of the war. Seven years was a common enlistment as the military was building up for entry into World War I. The Army had learned their lessons about short enlistments during the Civil War and had not yet settled on the "for the duration" enlistments that would be used during World War II.
Prior to his departure overseas, Harry met his future wife, Margaret Frith McLean, while training at Hazelhurst Field (later known as Roosevelt Field) just a short distance from Margaret's home on Long Island, New York. They had met at a dance, and wrote to each other while he was away and became engaged upon his return. He and Margaret married on 27 Sep 1919, in Roslyn, Nassau, New York.[3] Their marriage license lists Harry as an auto mechanic and Margaret as a typewriter.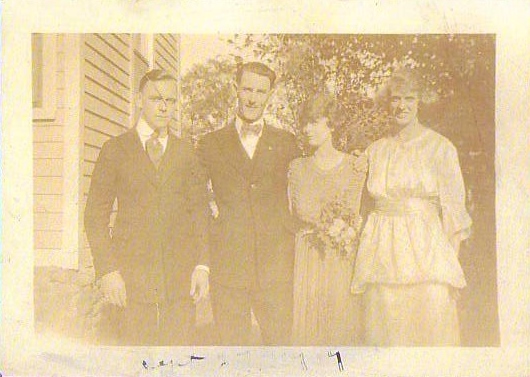 From l-r: John W. Mortimer, Harry, Margaret, and Jeanette McLean (Margaret's cousin).
In 1920, Harry and Margaret were found living with her mother, Nettie McLean, in North Hempstead, Nassau, New York.[4] It's a crowded household with the Walkers, Margaret's sister Ada and her new husband Jack, brother's Edward and Welling, and widowed sister, Susie, with her two infant children. You'll notice that the husbands take second place to the daughters and are the only ones employed.

Our family story claims that the relationship between Harry and Margaret's mother was not particularly warm and Harry couldn't wait to return to Philadelphia. They were in Philadelphia, living on Rowe Street, on 21 Aug 1923 when son Harry Craig was born.

While Harry remained in Philadelphia to work, Margaret removed to Howard Beach, Long Island in the summer of 1927. Daughter Shirley Dolores was born there 18 Jul 1927.

By 1930, Harry is self-employed as a plasterer. He and Margaret along with their two children are living with Harry's sister Ruth and her husband Bill Schoenleber at the time of the 1930 census.[5] We know based on stories shared by Margaret, Craig, and Shirlee that the early 1930s were difficult and lean times for the family. Harry was constantly seeking work and taking what he could find to make ends meet. Craig recalled his father whittling children's pull toys and selling them door-to-door during the depression. He and Shirlee both told of Harry buying candy and repackaging it and selling that also. They also spoke of counting out the pennies at the butcher shop for a small piece of meat to go in the soup pot. Neither felt as though they were any poorer than their neighbors at the time, but there was very little money in the household.
In 1932 Harry travelled to Washington D.C., joining the "Bonus Army" as they demanded a promised cash bonus be paid early. The World War Adjusted Compensation Act of 1924 had awarded each of the men who served in the World War a bonus certificate they could redeem in 1945. With interest, the value would be about $1000. The veterans needed the money now. They were not successful in winning the bonus and Harry returned home. There will be a separate post that tells of the events that unfolded around the gathering in Washington and why it left Harry angry and resentful with the government.
In 1934, Harry completed his Veterans Service and Compensation Application.[6] This form provided his proof of military service so that he could be paid his bonus when it was finally passed. That finally occurred in 1936. The address provided is of 1923 E. Orleans Street.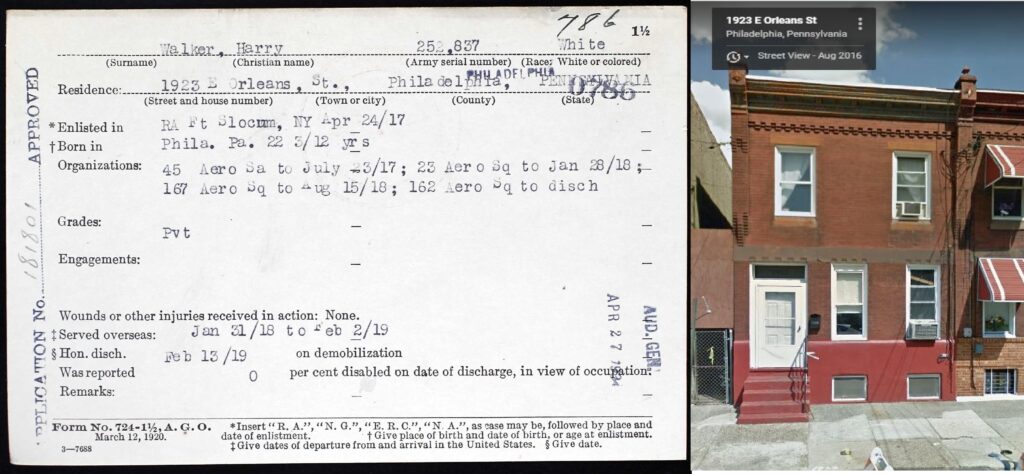 By 1940, Harry and family had moved to their own place at 2150 Birch [Read more…] about WILLIAM HARRY WALKER