There are not a lot of stones happening in this small group. Neither James nor Rebecca have a tombstone.
Oldest daughter Elizabeth Angeline Beatty (1850 – 1918) is buried with her husband James Young (1854 – 1914) in Elderton Cemetery. While her tombstone says 1851, she was born in 1850 as documented by the 1850 census.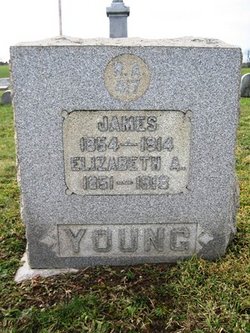 Daughter Jane Isabella Beatty is buried in an unknown location.
Daughter Nancy M.J. Beatty Shaffer (9 Aug 1853 – 2 Feb 1909) shares a stone with husband Peter Shaffer in Elderton Cemetery.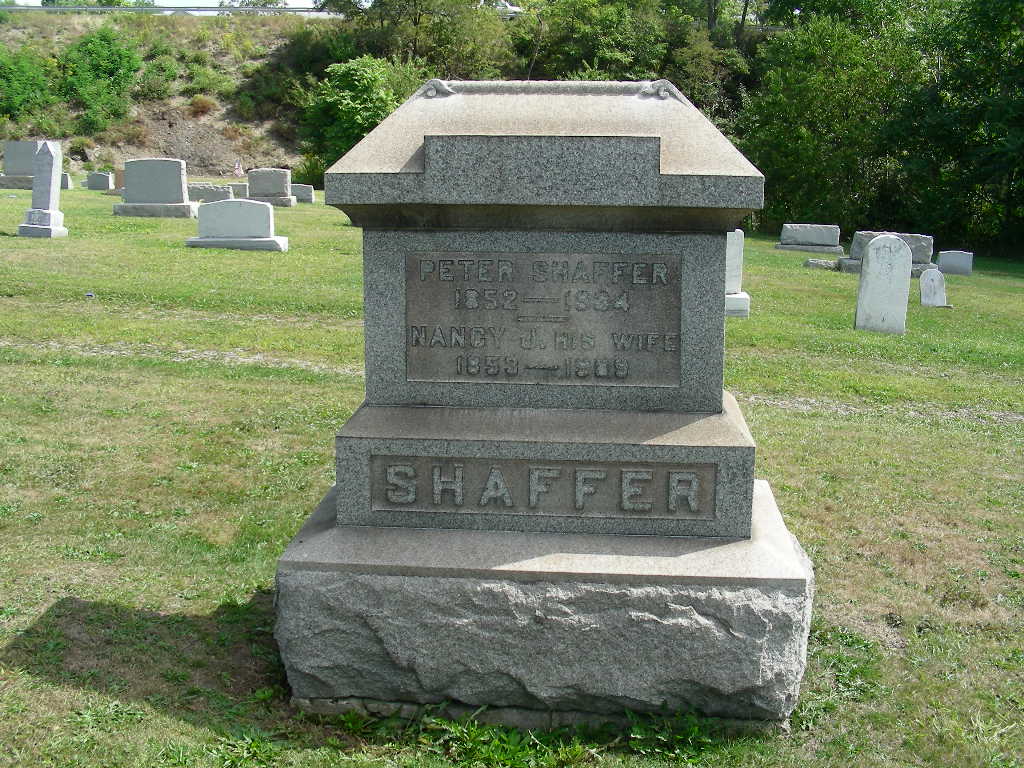 Daughter Caroline "Callie" Beatty Beer (abt 1859 – 1891) is with her husband Elias Clark Beer (29 Jan 1860 – 9 Oct 1932) in Elderton Cemetery. Callie and Clark had four children: Harry Edwin and John are both in Elderton Cemetery, Laura Mae Beer Metz is in Greenwood Cemetery, Indiana County, and Lydia E.Beer Chambers, location unknown.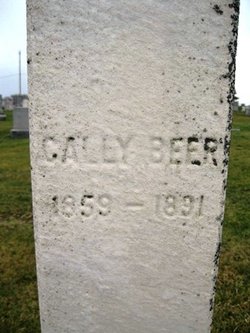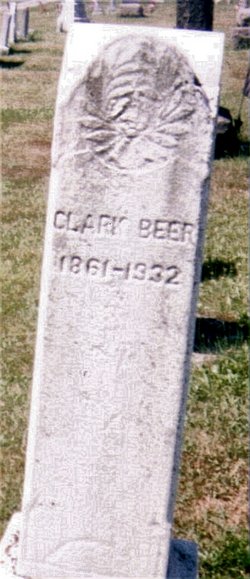 William James Beatty (25 Aug 1861 – 4 Aug 1920) is buried in Elderton Cemetery, but he has no tombstone. Both of his wives are buried in Elderton Cemetery as are several of his children. Rather than a separate post, I will include their tombstones here.
First wife Martha Jane Shaffer Beatty (abt 1858 – 27 Jan 1891).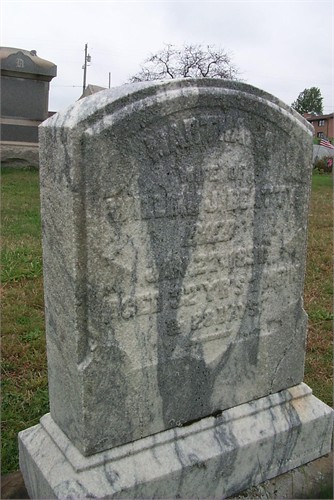 Their oldest daughter, Ella Minnie Beatty (2 Mar 1881 – 3 Mar 1905) is also in Elderton, but has no stone.
Oldest son Charles Nesbit Beatty (1 Sep 1882 – 3 Jul 1953) married three times. He is buried in Elderton Cemetery. There is a good photo of his stone on Find A Grave. My picture quality was not good enough to be used here.
He married his first wife Anna Belle Fiscus Beatty (1880 – 12 Nov 1925) on 18 May 1909. They had one child: Homer Charles. She is in Elderton Cemetery.
He married second wife Nannie Belle Miller Beatty (abt 1883 – 10 Jan 1932) on 9 Jan 1926 in Indiana, Indiana County. They had no children. She is buried in Elderton and I have requested a photo.
He married third wife Ethel Pauline Bleakney (5 Aug 1898 – 9 Aug 1970) on 9 Jul 1934. They had no children. Ethel is also in Elderton Cemetery.
Daughter Jennie Mae Beatty was also married multiple times. First about 1906 to Robert McClellan (information not known). They had one child: Robert Paul McClellan. Second to John Milo George (8 Aug 1868 – 23 Aug 1923) on 21 Jun 1919. And third, to George Robert McKee (24 Mar 1887 – 26 Dec 1958) on 1 Mar 1924. Jennie and George are both buried in Oak View Memorial Park, Antioch, Contra Costa, California.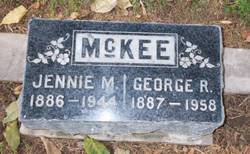 Son John Addison Beatty (2 Apr 1889 – 28 Aug 1983) married twice. He is buried in Gastown Cemetery.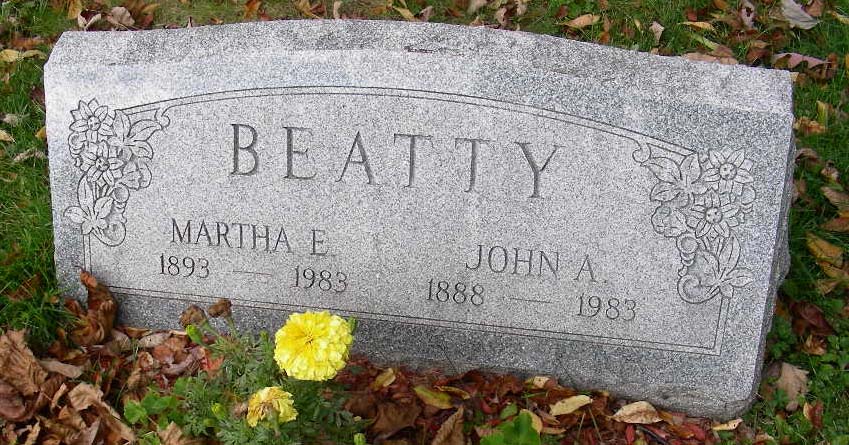 John Addison married his first wife Lottie Susanne Bierer (1 Feb 1891 – 17 Mar 1917) on 23 Sep 1913. They had one child: Mary O. Lottie died of Typhoid Fever and is buried in Gastown Cemetery.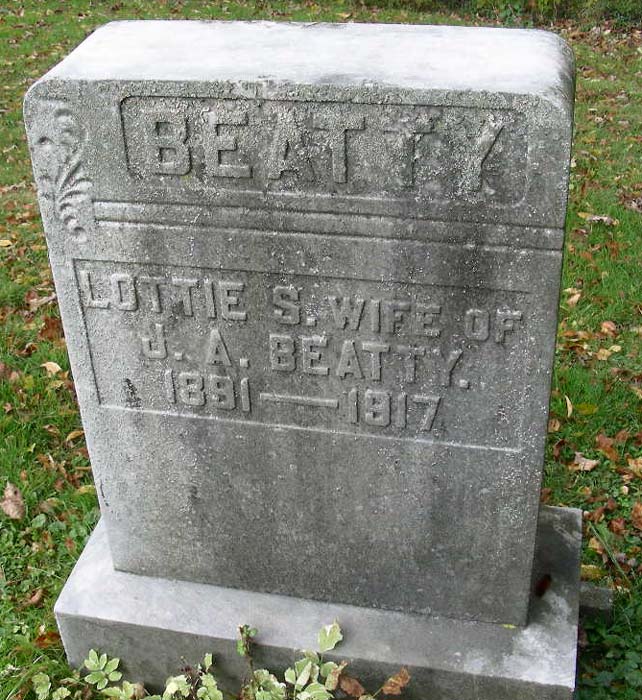 He married second wife Martha Eleanor Boyer (20 Dec 1893 – 7 Apr 1983) on 25 Mar 1919. They had five children: Marie Velma, Robert Addison, William V., Raymond Neal, and Virginia. Martha shares a tombstone with her husband.
The next post will be some final thoughts about the Beatty line.
---

Photos not taken by me courtesy of Ralph Satterfield and other contributors.