The Scott line is actually one of the shorter ones in Scotty's family tree. Beginning with Robert (Bob) Scott the Scott line is only verified back three more generations. I say verified because I'm still working on past generations. The women have actually been easier to work on in some ways then the men – that's not normal in genealogy!
Robert Clare Scott was born on 5 May 1891 in Plumcreek Township, Armstrong County, Pennsylvania.1 [Yes, I'm aware his death record and tombstone say 1890, but his marriage record and early census record place his birth in 1891, well after his parents 1890 marriage.] Bob is the oldest son of John Pettigrew Scott and Anna Mary Beatty (aka Anna M. Shaffer – more on that later). I have seen some records that state he was born in Elderton, but I'm comfortable with Plumcreek Township as the appropriate location since this is what he declares on his marriage application.
Bob was apparently a bright young man and a hard worker. According to a 29 July 1908 news article, he was hired as a teacher at the Concord School in Concord.2 Concord was a small community above Gastown and is no longer in existence. Keystone Lake was created in the 1960s and it covered the small community.
On 9 May 1910 he is enumerated with his parents and siblings on his father's farm and lists his occupation as a farm laborer.3 He was still teaching school, but as with many teachers of the day, he worked at other jobs to make ends meet.
Bob married Viola Cynthia Lawton on 22 September 1915 in Shelocta, Armstrong County, Pennsylvania.4 Viola was the oldest daughter of Elmon Grant Lawton and Mary Etta Pickle. I will address Viola and her family when I post on the Lawton line in the future. One of the more interesting side facts about Bob and Viola's story is that Viola had been one of Bob's students when he taught at Concord School. The 1911/12 school year souvenir shows both of them along with several of Viola's Lawton siblings.
Their only child Royden Blair Scott was born on 9 April 1917 in Elderton, Armstrong County, Pennsylvania.5
Blair told me that his father had a known heart condition and while he helped out during threshing season, he had been told that heavy labor was dangerous to him. This was part of the reason to become a teacher and also to take on some of the other jobs he had later in life.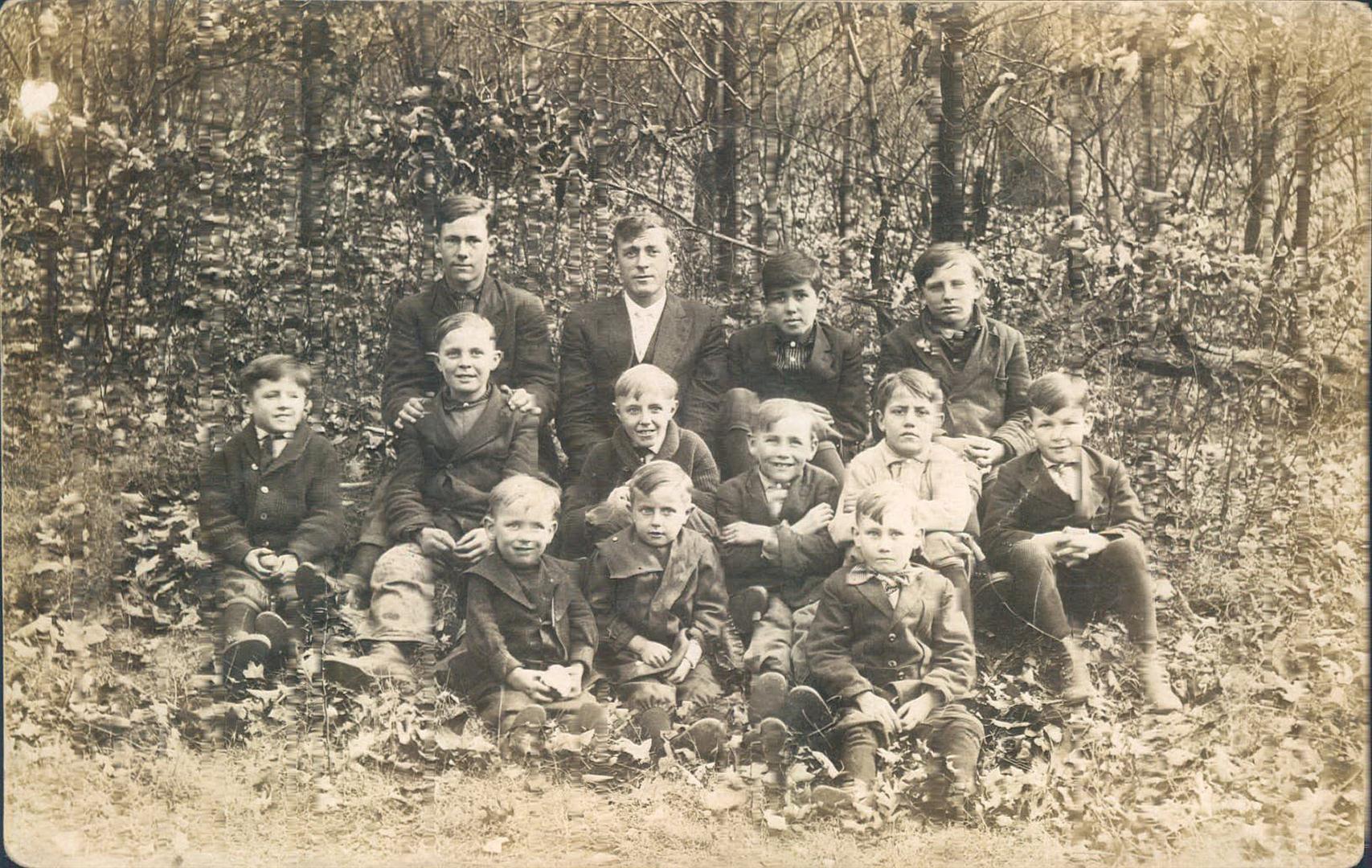 ---

1. Pennsylvania. Armstrong County. Marriage Licenses & Applications. Armstrong County Courthouse, Kittaning.
2. "Teachers Chosen," The Indiana Weekly Messenger, 29 Jul 1908; digital images.
3. 1910 U.S. census, Armstrong County, Pennsylvania population schedule, Plumcreek Twp., enumeration district (ED) 37, p. 9B, dwelling 185; digital images, Ancestry (http://www.Ancestry.com); citing National Archives and Records Administration microfilm T624, roll 1310
4. Armstrong, Pennsylvania, Marriage Books, Book 25: page 521, Robert Clare Scott-Viola C. Lawton, 22 Sep 1915; Armstrong County Courthouse, Kittaning.
5. Pennsylvania Department of Health, birth certificate 67695 (9 Apr 1917), Royden Blair Scott; Department of Health, New Castle, Pennsylvania.