Reaching Back
We always hope that a marriage in a specific church will lead to the baptism records of those individuals in the church. If William Bromilow and Ann Chaddock married in All Saints than it made sense to look for their records there. I used the Lancashire OnLine Parish Clerk Project (did I mention how much I love this site) and found two Ann Chaddocks – one born/christened in All Saints in 1801, the daughter of Matthew and Peggy (Chisnall) Chaddock of Hindley,1 and the other christened in St Aidan in 1799 the illegitimate daughter of Betty Chaddock of Billinge.2 Both records lead to more questions than answers.



With one of William and Ann's daughters named Margaret, I could easily have just accepted Matthew and Peggy, since Peggy is a pet name for Margaret. However, William and Ann have 3 sons after this and none of them are named Matthew, nor is there a grandchild named Matthew or Margaret. The other problem is that the few records we have for Ann show her as being older than William with ages that equate to a birth year of 1797 or 98. The Ann in All Saints is born and baptized in 1801. While age variant isn't unusual, this one seems a little big. I'm not saying it isn't them, I'm just saying it doesn't feel right.



As for the Ann born in Billinge, we get no help with a birth date so the child could be anywhere from 1 week to 3 years. I find I'm much more comfortable with the age of this Ann baptized in 1799 over the Ann born/baptized in 1801. Also, the fact that Ann's daughters Margaret and Jane are born in Billinge could lend meaning to this location/relationship – perhaps they had moved closer to Ann's family for the birth of their second/third child. There are many Elizabeths in the tree below this level, but it's such a common name and Ann's son George married an Elizabeth that we can't take any specific meaning from the name. As much as I'd like to accept this record, I can't.
There simply isn't enough evidence at this time to declare a parent for Ann Chaddock. The most we can say comfortably (based on the available records) is that she was from Wigan Parish in Lancashire. I'm not done researching, but I am setting her aside for now.
There was much better luck in locating a matching record for William. I was fairly certain that William was born in January or February of 1800 based on the multitude of records, including his New York death record, so I began with that date in mind and quickly located the following:3

While I was excited to find William's birth and baptism, I was ecstatic to see the additional information with the name of his mother's parents. There was a whole bunch of genealogical happy dancing going on when I found this. These names were confirmed through several more records. Once again the Bishop's Transcripts found on Ancestry were not as good, since they erroneously state William's mother's name is Mary and said nothing about Jenny's parents.
After a few days of digging through the parish records, this is the family as I now know it:
William Bromilow and Jenny/Jane Turner had the following children:
1. George Bromilow/Brimalow born 3 May 1791, Shevington, baptized 21 May 1791 All Saints Wigan, 1st son. He died Jun 1857 Orrell and was buried 11 Jun 1857 at St Thomas the Martyr, Upholland. George married Mary Knowles (2 Apr 1784 – Aug 1851), daughter of Thomas and Margaret Knowles on 4 Feb 1808 in All Saints. They had 9 known children together. They lived their life in Orrell and all the children were baptized in All Saints. They along with many of their children are buried in St Thomas the Martyr in Upholland near Orrell.
2. Unknown 1st daughter – I have not yet found any baptism or burial records, but daughter Betty is listed as the 2nd daughter. It is probable daughter #1 died shortly after birth and prior to being baptized.
3. Betty Bromilow born 3 Mar 1797, Wigan, baptized 18 Mar 1797 All Saints Wigan 2nd dau., died May 1804 Orrell, buried 6 May 1804 St Thomas the Martyr, Upholland.
4. William Bromilow/Brimlow, born 16 Jan 1800 Wigan, baptized 8 Feb 1800 All Saints Wigan, 2nd son. Married Ann Chaddock 5 Sep 1819 All Saints Wigan.
I have found no other records of children for William and Jenny/Jane, but that doesn't mean there aren't more out there. Nor have I found a birth/baptism record for William Bromilow born between 1850-1875.
*Note – All sources are up in the BurgraffScott tree on Ancestry and also in FamilySearch.
However I did locate the 18 Jun 1758 baptism record for Jenny Turner thanks to having the name of her parents from her children's baptism records.4




I'll post more on William and Eleanor Turner later. But, yeah… I was doing a lot of happy dancing. **Note – Jenny/Jinny are pet names for Jane.
I have not yet found a marriage record for William and Jenny. What I can prove is that they are NOT the William Brimilow and Jane Turner who married in Saint Helens on 6 Sep 1790 for the following reasons:
1. The St Helens Jane Turner was a widow so her maiden name would not be Turner. Our Jenny/Jane Turner's parents were named as William and Eleanor Turner in Jenny's children's baptismal records.
2. Our William and Jenny/Jane had a son George Bromilow born 3 May 1791 and baptized 21 May 1791 in Wigan. That William and Jane Brimilow had a son named John Brimelow born 26 Dec 1791 and baptized on 13 Jan 1792. Seven months is possible, but they continue to have children at the same time our William and Jenny/Jane are having children.
3. Our Jenny/Jane was born in Shevington (as was her first son George) and she was baptized in St Wilfrid, Standish. Her children were all baptized in Wigan, which is only 4 miles away while Saint Helens is almost 20 miles from her known home. It is southwest of Billinge in the map below – it's in the Parish of Precot.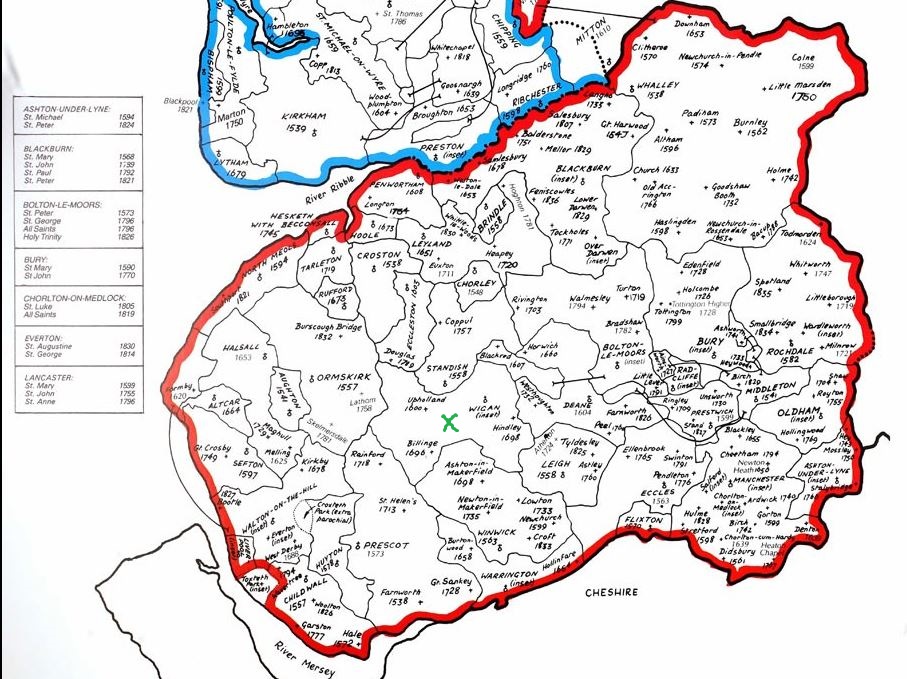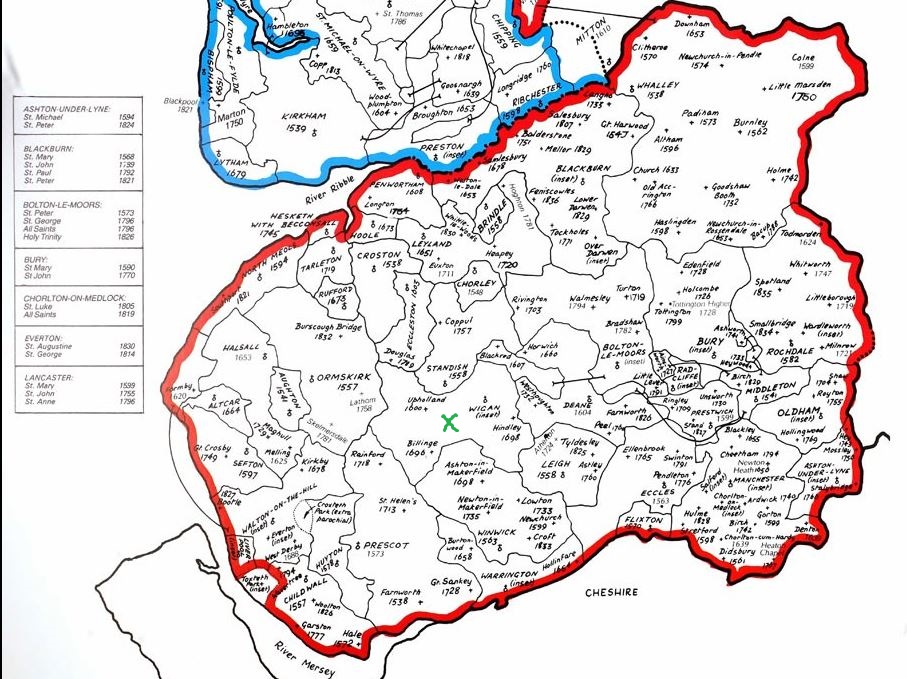 ---

1. All Saints, Wigan, Lancashire, Baptismal Registers 1799-1812, p.51, Ann Chaddock, born 8 Mar, bap 29 Mar 1801, parents Matthew and Peggy [Chisnall] Chaddock, Hindley, Weaver, wife parents William & Betty Chisnall, Original registers.
2. Christening records (accessed 28 Nov 2015), St Aidan Billinge, Lancashire, Baptismal Register 1787-1812, p24, Ann Chaddock, bap 2 Jun 1799, illigitimate daughter of Betty Chaddock, abode Billinge.
3. Christening records (accessed 27 Nov 2015), Wigan All Saints, Lancashire, Register of Baptisms 1799-1812, Page 20. Baptism 8 Feb 1800, Born 16 Jan, William Bromilow 2nd son of William Bromilow & Jinney Turner (dau of Wm & Elnor Turner).
4. Christening records (accessed 3 Dec 2015), St Wilfrid, Standish, Lancashire, Baptismal Registers 1733-1771 p107, Jenny Turner, 18 Jun 1758, William & Eleanor Turner, Shevington, FHL Film 1526140.