Frances C. (Frith) Bagwell Maxwell Maddern
I previously spoke about how strong of a woman Susan Wynn Frith McLean was in managing life with Civil War veteran Peter B. McLean. However, strong women appear to run in the family, including older sister Fanny.
Fanny C. Frith was born 11 Oct 1837 in Brooklyn, Kings, New York, the oldest daughter of William Henry Frith and Frances Catherine Brown.1 Her parents had both passed away before her 18th birthday and as the oldest, Fanny no doubt felt responsible for the care of her younger siblings who ranged in age from 16 down to less than a year. I have not been able to locate Fanny or her siblings definitively on the 1855 New York (NY) State Census.
Searching for Fanny proved difficult at times, but it all came down to marriage records, newspapers, and death and cemetery records. Thank goodness for those cemetery records. When looking at the records for the Brown/Frith Family Plot in Cypress Hills the name William E. Bagwell stood out. Not a Frith or Brown, he had to be the husband of one of the girls. He was interred at the age of 28 on 26 Nov 1863. A search of the 1860 Federal Census turned up William E. Bagwell born about 1835 in New York with wife Fanny C., born about 1937, living in Brooklyn.2 A painter by trade, it is probable they met through her sister Susan's husband Peter B. McLean who owned a painting business in Brooklyn.
It appears she married William E. Bagwell in about 1858-59. No marriage record has yet been found and it is not known who his parents are. He's on his own in the 1850 Census,3 but I have not yet been able to locate him on the 1855 NY either. I'll look into pulling his actual 23 Nov 1863 death certificate4 on my next trip to Salt Lake City in hopes of finding out his parentage. [Update – shown at end of paragraph.] What I did find was a news article about his death.5 William was painting the side of a ship when another ship, under tow, collided with his ship. He was crushed between the two ships. The article is below. I followed the story by searching for information on the ships and learned that the captain of the "propeller" Liberty (tug/push boat) was indeed arrested and charged with recklessness and believed to be intoxicated at the time.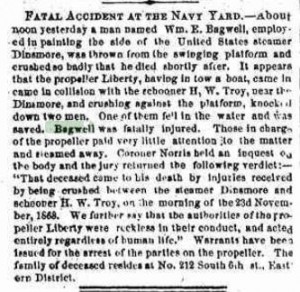 William's probate records revealed he had a daughter, Annie Elizabeth Bagwell.6 I searched for Fanny and Annie Bagwell in the 1865 NY State Census but had no luck. However, in the 1870 Federal Census, daughter Annie E. Bagwell showed up in with mother Fanny C. Maxwell in the household of William Maxwell. Once I had his name, I easily found the family on the 1865 NY. Annie Bagwell was enumerated as Maxwell.7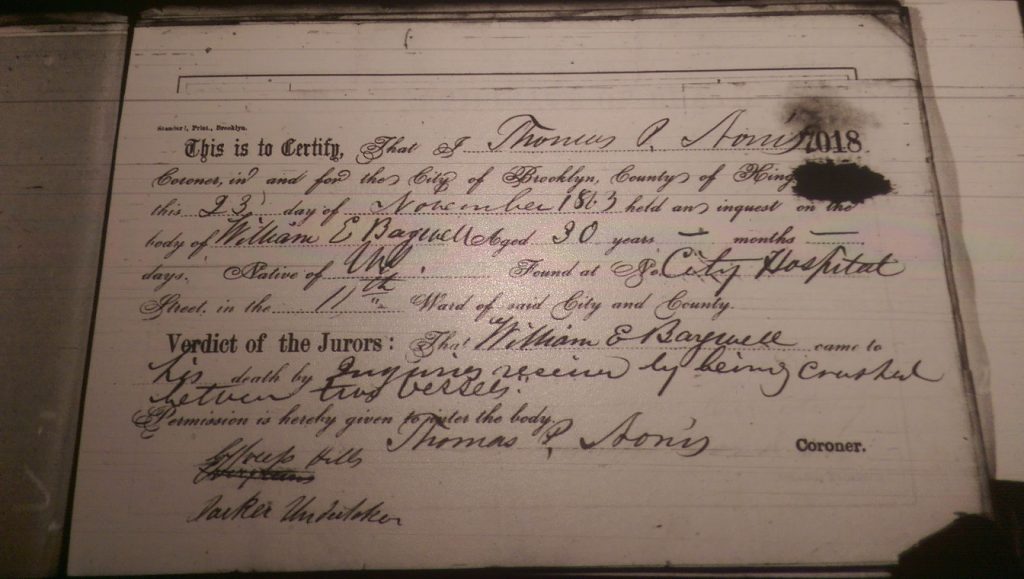 William H. Maxwell was born about 1840 in Glasgow, Scotland and worked as a carpenter, builder, and a foreman in the Department of City Works in Brooklyn. He'd served in the 84th NY Infantry, Co. H and was injured at Bull Run in 28 Aug 1862 and discharged with a disability on 13 Jan 1863. Once again, it is probable that Peter B. McLean introduced Fanny to her future husband as both men were veterans who'd been injured in the Civil War and were both in the construction industry.8 Fanny and Annie can be found with William Maxwell through the 1880 Census.9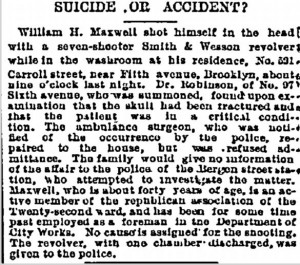 Something went terribly wrong in the evening hours of 27 Jun 1883 and William H. Maxwell shot himself in the head at his home. The circumstances of the event were unclear as noted in the article SUICIDE OR ACCIDENT from The Brooklyn Daily Eagle the following day.10 He succumbed to the wound 13 days later, 10 Jul 1883, remaining at home in the care of his wife and doctor during that time. They were unable to remove the bullet and his death came from traumatic meningitis. He didn't fall unconscious until three days before his death.11,12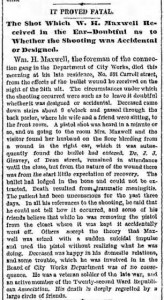 Due to the questionable circumstances, the coroner held an inquest on 11 July and the jury found that the shooting was accidental.13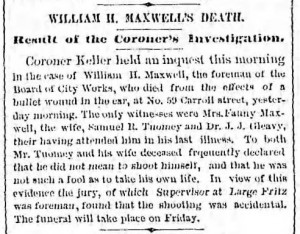 I'm still fascinated by the fact that in the first article, Fanny refused to let in the police or their surgeon, but surrendered the weapon to them. William Maxwell appeared to be well-liked and respected in the family as step-daughter Annie used his name throughout her life, and Fanny's sister Ruth and her husband named son William Maxwell Reed for him. Almost twenty years after the death of her first husband, Fanny buried her second husband. William was laid to rest in Green-Wood Cemetery on 13 Jul 1883.14
Meanwhile, Fanny's only child had married Ernest Albert (1857-1946) in about 1882. Ernest was a distinguished theatrical and scenic set designer, and it is probable that Fanny met her next husband Richard H. Maddern through him. Richard was a well-known musician and orchestra leader and both men were working in the same theaters during this time.
On 29 Jun 1885, Fanny married Richard Henry Maddern.15 Richard was born 18 Dec 1839, in England, the son of Richard and Grace (Thomas) Maddern.16 According to information found in an obituary for his niece, Minnie Maddern Fiske, the family ran a touring theatrical company known as the Maddern Family Band. On 2 Aug 1861, he enlisted in the Union Army from Keokuk, Iowa, and was mustered out on 16 Aug 1862 in Memphis, Tennessee, having served as the band director in Band 6 of the Iowa Infantry. He applied for and received an invalid pension on 13 May 1905 for that service.17 According to one of his obituaries published in New York, "Mr. Maddern for many years was successively in charge of the orchestra of the Grand Opera House and Pope's Theater, St Louis, the Chicago Opera House and later that at Daly's in this city."18 Richard passed away on 24 Dec 1917 in the Bronx and was laid to rest 27 Dec 1917 in Woodlawn Cemetery.19
Fanny passed away 11 Feb 1918 in the Bronx and was buried the following day in Woodlawn with Richard.20 Her passing was noted in The New York Tribune.21

---

1. New York City of New York death certificate 1177 (1918), Fanny C. Maddern, 11 Feb 1918. Cit. Date: 26 Jun 2014.
2. 1860 U.S. census, population schedule, Williamsburg, Brooklyn, Kings, New York, p. 395, dwelling 616, family 1120, William Bagwell, 26, Fanney Bagwell, 20; digital images, Ancestry (accessed 12 May 2014); citing National Archives and Records Administration microfilm M653, roll M653 774. Cit. Date: 12 May 2014.
3. 1850 U.S. census, population schedule, Williamsburg, Kings, New York, p. 403B, family 1091, Wm Bagwell, 16, New York; digital images, Ancestry (accessed 30 Oct 2015); citing National Archives and Records Administration microfilm M432, roll M432 522.
4. "New York Death Records," database, Certificate #7018, William E. Bagwell, died 23 Nov 1863, age 30, buried Cypress Hills Cemetery.
5. "FATAL ACCIDENT AT THE NAVY YARD," Brooklyn Daily Eagle, 24 Nov 1863, p. 1, col. 1; digital images(accessed 13 May 2014). Cit. Date: 13 May 2014.
6. William E. Bagwell, 19 Dec 1863, Kings, New York, Letters of Administration for widow Fanny C. Bagwell, also named daughter Annie Elizabeth Bagwell; digital images.
7. 1865 New York State Census, Brooklyn, Kings, p. 51, family 371, line 1, William Maxwell, 26, Scotland, Builder, Frances Maxwell, 27, Wife, Kings, Anna E. Maxwell, 6, Child, Kings; digital images (accessed 30 Oct 2015). Cit. Date: 30 Oct 2015.
8. New York State Archives, Cultural Education Center, Albany, New York; New York Civil War Muster Roll Abstracts, 1861-1900; Archive Collection #: 13775-83; Box #: 353; Roll #: 122-1228
9. 1880 U.S. census, population schedule, Brooklyn, Kings, New York, enumeration district (ED) 224, p. 78B, dwelling 25, family 58, Maxwell, William H., Fanny C., Bagwell, Annie E.; digital images, Ancestry (accessed 12 May 2014); citing National Archives and Records Administration microfilm T9, roll 855. Cit. Date: 12 May 2014.
10. "SUICIDE OR ACCIDENT," The Brooklyn Daily Eagle, 28 Jun 1883, p. 3, col. 3; digital images (bklyn.newspapers.com : accessed 30 Oct 2015).
11. "New York Death Records," database(accessed 30 Oct 2015), Certificate #7332, William Maxwell, died 10 Jul 1883, age 43, buried Green-Wood.
12. "IT PROVED FATAL," The Brooklyn Daily Eagle, 10 Jul 1883, p. 4, col. 3; digital images (bklyn.newspapers.com : accessed 30 Oct 2015).
13. "WILLIAM H. MAXWELL'S DEATH," The Brooklyn Daily Eagle, 11 Jul 1883, p. 4, col. 8; (bklyn.newspapers.com: accessed 30 Oct 2015).
14. "New York Death Records," database (accessed 30 Oct 2015), Certificate #7332, William Maxwell, died 10 Jul 1883, age 43, buried Green-Wood.
15. "New York, New York, Marriage Indexes 1866-1937," database (accessed 13 May 2014), Fannie Maxwell to Richard H. Maddern, 29 Jun 1885, Kings, Cert #1990. Cit. Date: 13 May 2014.
16. "New York Death Records," database(accessed 30 Oct 2015), Certificate 8372, Richard Henry Madder, b. 18 Dec 1839, d. 24 Dec 1917, parents Richard Maddern, Grace Thomas, buried 27 Dec 1917 Woodlawn.
17. Civil War Pension Index: General Index to Pension Files, 1861-1934
18. "MADDERN. – Richard H. Maddern," The Drama Mirror, 4 Jan 1917, p. 28, col. 4;
19. "New York Death Records," database (accessed 30 Oct 2015), Certificate 8372, Richard Henry Madder, b. 18 Dec 1839, d. 24 Dec 1917, parents Richard Maddern, Grace Thomas, buried 27 Dec 1917 Woodlawn.
20. New York City of New York death certificate 1177 (1918), Fanny C. Maddern, 11 Feb 1918. Cit. Date: 26 Jun 2014.
21. "MADDERN.–" The New York Tribune, 12 Feb 1918, p. 13, col. 7;