George Brimlow 1820-1880
AKA: Brimalow/Broomelow/Bremlow

Are you completely lost? I get that way too. Here's the pedigree chart again for this line. This post will be about #14 on the chart, George Brimlow and wife Elizabeth E. Weeks.
George began life 12 Feb 1820 in Pemberton, which is part of Wigan, which is now part of Greater Manchester, Lancashire, England. Why all the names? Because all these little villages and towns are connected and families moved between them. Knowing that Pemberton is part of Wigan also connects the records of that area to the correct family. George was christened on 2 Apr 1820, at Wigan All Saints,1 the oldest child of William and Ann Brimalow. He and his family remained in the Wigan area until his parents immigrated to the United States.
Having moved frequently as a child, I can't help but think how excited George must have been at the age of 12 to set sail aboard the Ajax for New York in 1832. He was really at the perfect age to take it all in, and I have a feeling that he probably knew the ship inside and out by the time they arrived in New York on 29 Nov 1832.2
In about 1842, he married Elizabeth E. Weeks (1821-1899). It's not yet clear who her parents were. We have her maiden name from several of her children's records. There are online trees that claim her parents were John and Mary Weeks who arrived in New York in 1829 along with children Sophia, John, and Elizabeth age 1. I saved them to my tree for some time in an attempt to prove the relationship, but finally disconnected them rather than misleading anyone that they'd been proven. The problem is that from the earliest records of Elizabeth that we can prove (the 1850 census) right up through her death, she consistently has a stated birth year of about 1821. John and Mary's daughter Elizabeth would have been born in 1828. Our Elizabeth's death certificate is of no help as the informant named her parents both as Brimlow. There are numerous "Weeks" in New York in 1840 with a female of the right age, so narrowing this one down may not happen without some help.
George first appeared in the New York City directories in 1845. [All of the NYC directories for this period and Brooklyn directories from 1860 forward are available on Fold3 – I did not provide individual sources for all of these here.] His listed occupation is as a clerk and the address is at 51 Cherry. From 1846-1849, he was at clerk and the address is at 41 Hamilton. On the 1850 Federal Census his occupation is as coffee roaster, which is the family business. In 1851, he's a clerk again, but it's at the same address as his father and younger brother William. In 1853, the business address is 16 James Slip (where his father has done business for years) and is shared with his father and youngest brother John. I cannot tell a lie, I am ecstatic to find someone in the family line who worked in the coffee trade. This explains so much about my deep abiding love for the damn stuff.
By 1851, George has moved his family to Brooklyn. Based on the city directories, he moves frequently and his occupation varies between clerk and coffee roaster until about 1865 when he's listed as a grocer. In 1870 he's an oil dealer and then in 1871 appears as an engineer – an occupation he carried for the rest of his life.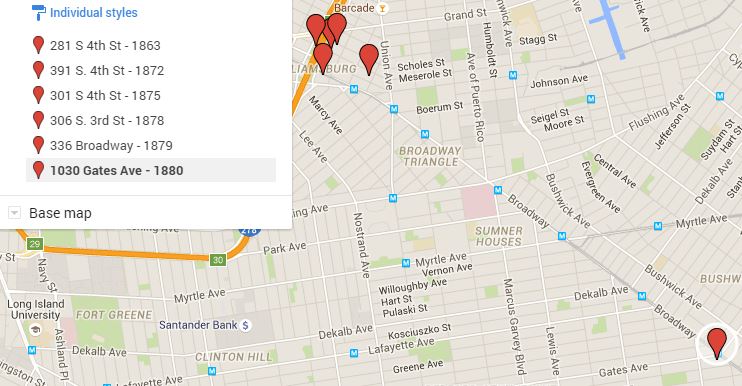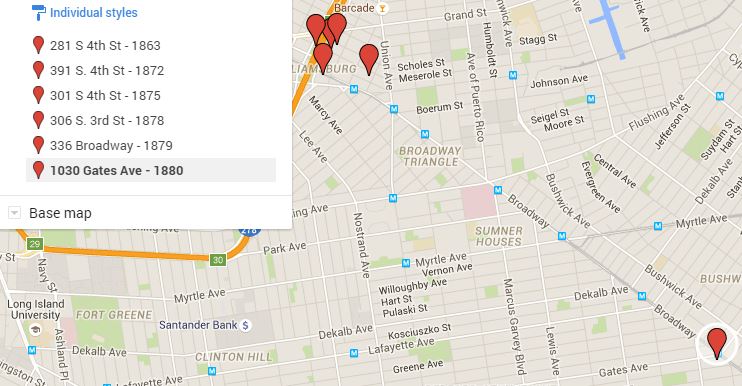 George died on 30 Dec 1880 and was buried on 2 Jan 1881 in Cypress Hills Cemetery in the Brimlow family plot.3.4 Elizabeth did not remarry and lived until 2 Oct 1899, residing with daughter Jane (Brimlow) Lloyd. Elizabeth was interred 5 Oct 1899 with George.5 Their grave is at the monument. Now all we need is a picture of the monument.
George Brimlow and Elizabeth E. Weeks had 13 known children together. It's hard to believe that he's the one who died of exhaustion. I'm exhausted just thinking about it. I'll cover the children in the next post.
---

1. All Saints Wigan, Baptismal Register 1819-1822, p72, entry 571, George Brimalow, bap 2 Apr 1820, born 12 Feb 1820, 1st son of William & Ann Brimalow, Abode Pemberton, LDS Film 1885676.
2. "New York, Passenger Lists, 1820-1957, Ancestry," online images(accessed 20 May 2014), manifest, Ajax, 29 Nov 1832, William Broomelaw and family. Cit. Date: 20 May 2014.
3. "New York Death Records," database(accessed 24 Nov 2015), George Bremlow, died 30 Dec 1880, 1030 Gates Ave, Brooklyn, FHL Film #1,323,758
4. Interment Records, Cypress Hills Cemetery, George Brimlow, interred 2 Jan 1881, Sec 2, Lot 168, at monument.
5. New York death certificate 16938 (1899), Elizabeth Brimlow, died 2 Oct 1899, age 78 years, buried 5 Oct 1899.