Ruth Frith Reed (1846-1907) and Mathew Taylor Frith (1850-1929)
Ruth Frith was born in August of 1846, the fifth child of William and Frances. She married Samuel E. Reed in about 1864. Samuel, born about 1839 in Brooklyn, had served for two years in the Civil War with Hawkins' Zouaves. Ruth provided a statement for her sister Susan Wynn Frith McLean when she applied for her widow's pension. The family is tracked fairly easily through the census records as they remained in Brooklyn throughout their lives. Samuel died 16 Aug 1894 and Ruth passed away 5 Mar 1907. Both are interred in Cypress Hills Cemetery along with several of their children.
1. Frances Eleanor Reed (1865-1942) m1 Edward Avery (1866-?) m2 James J. Dow (1863-1923)
2. Charles E. Reed (1868-1870)
3. Samuel M. Reed (1870-1870)
4. Edward Milton Reed (1872-1930) m. Catherine C. Toal (1874-1924)
5. Ruth Frith Reed (1874-1900) m. Frederick F. Hoeg (1870-1906)
6. William Maxwell Reed (1876-1939) m. Anna Augustina Boshch (1882-?)
7. Minnie E. Reed (1880-1959) m. Charles Wesley Clark (1880-1967)
8. Susan May Reed (1883-1886) appears as Mary Reed in interment records
Matherw Taylor Frith was the seventh child of William and Frances. He was a painter by trade as were his brother and brother-in-law. He married Mary Louisa Hamill in about 1869. Mary was the daughter of Robert Fulton Hamill (1802-1876) and Mary Louise George (1826-1887). Mary died on 8 May 1917 and was interred with her family in Green-Wood Cemetery. Mathew died 5 Jun 1929 and was interred in a separate plot in Green-Wood.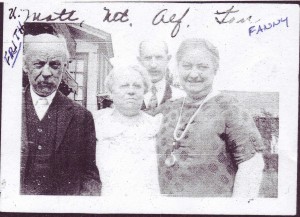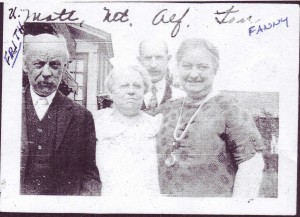 They had five known children together:
1. Sarah P. Frith (1870-1870) Cypress Hills Cemetery with Mathew's parents.
2. Fannie E. Frith (1872-1928) m. Welling Seely (1874-1931), one child Raymond Frith Seely (1899-1901) all three are in the Hamlin family plot in Green-Wood with Mary.
3. Mabel Virginia Frith (1876-1961) m. James M. Gormley (1885-1992) both are in Green-Wood with Mathew.
4. Susan Edna Frith (1879-1922) m. Perry L. Ward (1878-1909, on child Doris Mildred (Ward) Oed (1898-1956). Susan and Doris are with Mathew in Green-Wood. Perry's location is not known.
5. Ruth A. Frith (1883-1912) m. Anderson Reid (1858-1920) Ruth is in the Hamill family plot with mother Mary. Anderson Reid died in San Francisco, burial location unknown.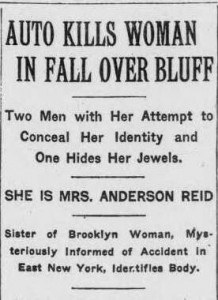 Ruth A. Frith Reid was interesting because of the unusual circumstances of her life and death. It seems that on the evening of 13 Nov 1912, Ruth was involved in a car crash in which she died. She was 27 years old and her husband was 54, although one paper wrongly stated he was 76. Ruth was in the car with four men, two of whom fled the scene. The other two were with Ruth when the police arrived. One of the men who fled, apparently called her sister Mabel to tell her of the accident. Mabel hurried to the police station where Ruth had been taken. She found that her sister's jewelry was missing. The jewelry was found in the coat pocket of one of the men who'd been the car with her. The man was arrested on the spot for grand larceny and both men were arrested on suspicion of homicide. The morning paper had a field day with the news, making it sound as though Ruth were a wild young woman who was stepping out on her older husband with some shady character.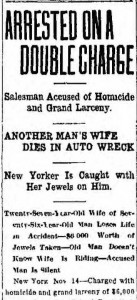 By the afternoon of the 14th the real story had emerged. The shady characters were old family friends and well-known to Anderson Reid. He had encouraged his wife to go with them to a party at another friend's home as he had to work that evening. Ruth's jewelry was actually in a small chamois bag and one of the men had simply picked it up, along with her purse, and put them in his pocket so they wouldn't get lost. Both Reid and Mabel Frith came to his defense and all the charges were dropped at a hearing on the morning of the 14th. In the afternoon article, the family went to great lengths to make it clear that Ruth and Reid had been married for nine years and Ruth was an active member in her church and even taught Sunday school. They stated they also knew the names of the two men who'd fled but refused to divulge them as enough damage had been done to everyone's reputations.