Susan Winn (Frith) McLean (1839-1915)
The Civil War pension file for Peter B. was often painful to read, but much of the personal material about his quality of life was found in his wife Susan's widow's pension application and the depositions written on her behalf. While reading about his condition and demise saddened me, more often than not, my mind turned to the question of what it must have been like for Susan.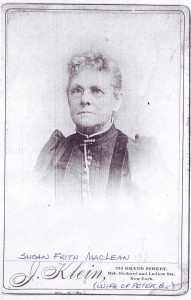 Susan Wynn Frith was born 24 Jun 1839 in Kings County, New York. She was the second child of William and Frances (Brown) Frith who had arrived from England only two years earlier. Her mother died when Susan was thirteen and her father died the following year. Her grand aunt Ellen Winn took in Susan and her siblings. She was barely seventeen when she married Peter Byron McLean on 27 Aug 1856 in Brooklyn. Her first child, Franklin Byron McLean arrived on 6 Nov 1857. Son Washington and daughter Sarah R. followed.
In June of 1861, Susan might have thought life was pretty good. Her husband had a thriving business in Brooklyn, she and Peter owned their home, she had three children, and her siblings and in-laws lived nearby. But then Peter decided to go play soldier. He helped raise a company and by the beginning of winter, he'd gone marching off to war, leaving Susan to manage without him.
Eight short months later, Susan was married to a complete invalid who was delusional and, according to the doctors at the hospital, a man who "might become violent."
Based on the information we have in his files, we know he was desperately ill with a high fever and delusional when he was taken from the hospital tent in Yorktown and transferred to Fort Monroe, but it was during this time that he resigned his commission. In doing so, he effectively removed himself from the care and keeping of the army. That means, no pay and no medical care. As I stated in an earlier post, the goal of the army was to get the sick men home to the care of their families, freeing up bed space for others.
What must she have thought when Peter began speaking about devils being in possession of his home? How must she have felt when he decamped to his father's home? It's impossible to put myself in her head, but I'm sure she must have been devastated by the changes in her husband, and yet, relieved that his father could take him in. The fact that Peter felt safe there was no less of a consideration then the safety and well-being of her children. She would have had her hands full caring for him and three children under five. As her sister Ruth (Frith) Reed stated in her deposition, Susan and her family were dependent on Peter's father for the next three years.
One of the things of interest in Susan's deposition was her statement that she had twelve children by the soldier. I had known of eight of them – seven were named and lived long enough to be documented in a census record; the eighth was an unnamed baby buried in Roslyn Cemetery in 1878. The first child born after Peter B. returned from the war was Charles Wallace on 30 Dec 1863. The others arrived regularly after that, with the last one being Virginia Stuart in 1881. However, most of these children did not survive. Charles died of diphtheria in 1867, in 1871 Matthew Taylor died from acute hydrocephalus and diphtheria. From 1871 through 1878 at least four children died either at birth or shortly thereafter, and son Peter passed away in that decade also. These children aren't found in the Brooklyn death records because the family moved to Roslyn in 1872 and those records are not available online or on film. At the time of Peter B.'s death, they had four living children. Franklin b. 1857, Washington b. 1859, Sarah b. 1861, and Virginia b. 1881.
Immediately after Peter B.'s death, Susan applied for her widow's pension, signing her application on 31 Oct 1895. This was the first step in a long fight with the Bureau of Pensions. Susan first had to prove she was married to Peter and that she had not remarried since his death. Then she had to prove that his death was a result of his wartime service and that she was in need of the assistance.
One would think that his invalid pension and resultant death would serve as proof but this was rarely the case. Most of my friends who do genealogy agree that the Bureau of Pensions must have had an unwritten code that read: "Make the widows start over and prove his disability, prove his death was because of that disability, and keep doing it until the old broad either gives up or dies." Her first application included her marriage certificate, Peter's death certificate, the letter from his doctor in Middletown, as well as documentation of daughter Virginia's birth since she was eligible for compensation as a minor child. Her claim was denied, the notation stating that she hadn't proved his illness and death were the result of his service. This was par for the course in the pension process.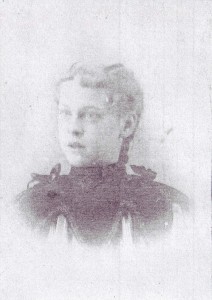 On 10 May 1896, Susan and Peter's youngest child Virginia died of Malaria and was laid to rest in Roslyn Cemetery. In 1898, Susan filed again and some sixteen depositions, along with a copy of Virginia's death certificate, were included. Several of the deponents were the same men who had given statements in Peter's claim for disability eight years earlier. Nine more depositions would be taken before the Bureau of Pensions surrendered.
On 8 Dec 1899, four years after Peter's death, Susan was granted her pension. The amount – a whopping $8.00 per month. Her lawyer charged her $25.00 at the outset and $10.00 upon award.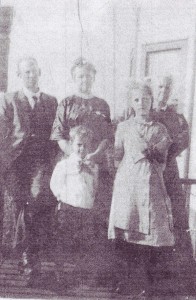 Susan spent the rest of her life on Long Island, living her later years in Port Washington. She died there on 21 May 1915 at the age of 75. Susan was buried in Roslyn Cemetery next to Peter B. and her son George who had died two months earlier.