The Civil War & its cost –
Part 4 – Peter B.'s Bitter End 1890-1895
By the end of 1890, Peter B. McLean was crippled by rheumatism and still struggling with the malarial fevers that had plagued him throughout his post war years. His pension made it possible for him to turn his business over to his sons, and I like to believe that life became a little easier for a short time. However, it appears that any relief and peace may have been short-lived.
Sister-in-law Ruth Reed stated, "Mr. McLean was totally disabled from labor last 5 years of his life. … I noticed evidence of insanity a year or two before he was sent to the Asylum. He used to think his children were all in hell and he was trying to get them out. He talked at random. I knew of no cause for this. He had no financial or family trouble or religious trouble to my knowledge. For 5 or so years before he died he used to say that his head bothered him and that he couldn't sleep nights."
According to his wife Susan, Peter B. came down with a case of "la grippe" in January 1893. Grippe was a common name in its time for influenza. She stated in her deposition that this bout of illness "left him very weak and nervous. Could not sleep and as a result his mind gave way… Every time he was sick it would seem to affect his head."
From Daniel Harrison's deposition: "For several years prior to his death, he lost so much sleep from pain that his mind became affected and a commission was appointed to inquire into his sanity."
In June of 1893, a panel of doctors was assembled to examine Peter B., and they recommended his commitment to the asylum at Middletown, New York. The records of his examination are not part of his pension file as they were medical records that went to the hospital with him. He was committed to The Middletown State Homeopathic Hospital on 1 Jul 1893.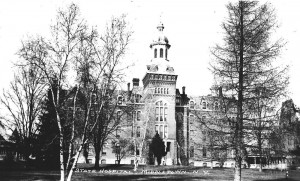 Peter B. remained in the asylum for the rest of his life and died there 1 Oct 1895. His death certificate stated the primary cause was chronic melancholia and the secondary cause a pulmonary hemorrhage.
Only after his death is the reality of his final years brought to light. When his wife applied for a widow's pension shortly after his death, the hospital was contacted for a statement about his death. The pension board was attempting to determine if his death was related to his military service. The following letter dated 4 Feb 1896 was received:
"Sir:-
Your communication under date of Jan. 31, 1896 regarding the late Peter B. McLean, has been received, and in reply I would state:
On admission to this hospital he was in a feeble physical condition, rapidly losing flesh; weighed on admission 144 lbs. and a month later 109 lbs.; was very restless, suspicious, careless in his habits, destructive and inclined to suicide, having the delusion that he was being persecuted by the devil, did not care to talk, would admit of no pain but manner very nervous. The remote cause of his sickness were supposed to be predisposition (nervous), and exciting physical disease. The physical disease referred to, was an attack of grip he had had in January 1892. In his history it was stated that "he was ill with typhoid fever in the army in 1862. After convalescence his mind was not right for six months." It is probable that phthisis was developed before admission to this hospital.
Very truly yours,
C. Spencer Kinney"
According to my Merriam-Webster, phthsis is a wasting or consumptive condition such as pulmonary tuberculosis. This explains the secondary cause of death.
It was a painful and ugly ending for a good man.