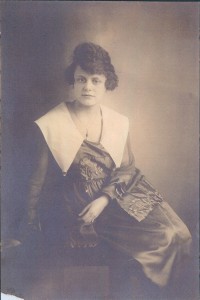 My grandmother Margaret was one of my favorite people. She came to live with us in 1965 when my father was in Vietnam. My mother Shirlee had hurt her back and Grandma came to take care of my brother and me and never left.
Margaret is also the first step back on the McLean, Frith, and Brimlow lines. I'll work back through the McLean line and then return to Margaret's mother and work up the Frith and Brimlow lines.
Margaret Frith McLean was born 22 Apr 1899, in North Hempstead, Queens, New York.1 She was the second daughter of George Edward McLean (1867-1915) and Henrietta "Nettie" Ella Frith (1875-1963). She told me that she often claimed to be one year younger than she really was because being born in the last century made it harder for her to find work.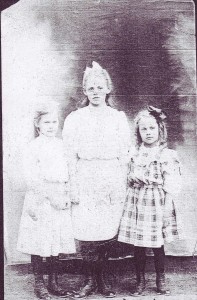 Margaret married William Harry Walker on 27 Sep 1919 in Roslyn Heights, Nassau, New York.2 She'd met Harry when he was stationed at nearby Roosevelt Field during World War I. He stayed on Long Island to woo her after the war and worked as a mechanic.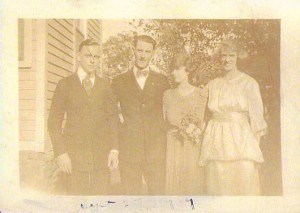 After their marriage, she and Harry lived with her mother for a short time and can be found with Nettie on the 1920 Census.3 Margaret and Harry moved to his hometown of Philadelphia shortly thereafter. Their first child Harry Craig Walker was born there on 21 Aug 1923.4 In the summer of 1927, Margaret went back to Long Island to escape the city heat as she awaited the birth of daughter Shirlee Delores Walker. Shirlee was born 18 Jul 1927 in Howard Beach, Queens, New York.5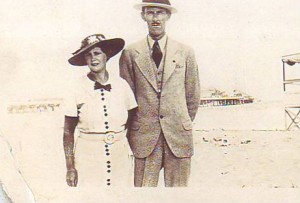 For a number of years, Margaret and Harry resided with Harry's sister Ruth (Walker) Schoenleber and her husband Bill. Harry had changed careers and become a plasterer and building contractor. The 1930s were lean years and Harry went wherever he needed to in order to find work. Eventually, they were able to afford their own home. They remained in the Kensington section of Philadelphia through the 1950s; Harry's mother and several siblings lived nearby.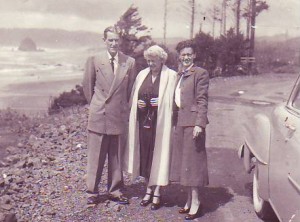 When Harry retired, he and Margaret sold their home and moved to Egg Harbor Township, Atlantic, New Jersey. The cost of living was a little lower and Harry wanted to be out of the city. They weren't there long when Harry suffered a fatal heart attack and passed away on 12 Nov 1961.6 Margaret was devastated. She moved to Horsham, Montgomery, Pennsylvania to be near her son Craig and his family.
In 1965, Margaret joined her daughter Shirlee (Walker) Burgraff in Alpena, Michigan, and remained with Shirlee and her family for the next seven years. In that time, Margaret lived in Michigan, Edmonds, Washington, Hamilton AFB, California, and finally in Eugene, Oregon.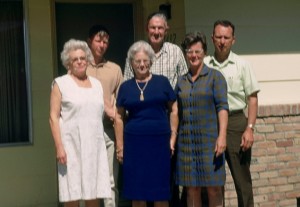 While in Oregon, Margaret met seventy-nine year-old Lloyd Columbus Thomas at a senior citizen's dance. They married 10 Jan 19727 and remained together until Lloyd's death 3 Feb 1976.8
Margaret died 19 Mar 1977 in Eugene, Lane, Oregon.9 She was cremated and her ashes were scattered.
Margaret was a gentle, sweet, woman, who was known as the peacemaker in our family. As was normal for the time, her white hair appeared blue from the rinse she used to keep it from appearing dingy, and she was well into her seventies before she wore slacks when it wasn't snowing. Her skin was flawless, and I remember her commitment to Yardley's lavender soap and Pond's Cold Cream. She was soft-spoken, tender-hearted, and loved to play board games, dance, and be with her family.
---

1. New York Department of Health, birth certificate (1899), Margaret McLean; New York State Dept of Health, Albany. Cit. Date: 19 Jun 2008.
2. Marriage Record, Nassau Co., New York, Marriage License, 27 Sep 1919, William Harry Walker to Margaret Frith McLean. Cit. Date: 4 Jun 2014.
3. 1920 U.S. census, population schedule, Roslyn, No. Hempstead, Nassau, New York, dwelling 187, family 152, MacLean, Nettie; digital images, Ancestry (accessed 12 May 2014)
4. Letter in Margaret Walker's hand detailing children & grandchildren births, Margaret McLean Walker's Notes, circa 1960; privately held by Sharon Scott.
5. New York Department of Health, birth certificate 7646 (1927), Shirley Dolores Walker; New York State Dept of Health, Albany. Cit. Date: 19 Jun 2008.
6. New Jersey Department of Health & Senior Services, death certificate (short form), (1961), Harry Walker; New Jersey State Department of Health, Trenton. Cit. Date: 19 Jun 2008.
7. Marriage Certificate, Marriage Certificate, 17 Jan 1972; privately held by Sharon Scott.
8. Oregon Death Index, 1903-1998. Salem, OR, USA: Oregon State Archives and Records Center.
9. Oregon State Health Division, death certificate (1977), Margaret Frith Thomas; Oregon State Health Division Center for Health Statistics, Portland. Cit. Date: 19 Jun 2008.